Hello's to everyone!
So I took a day (or two) off blogging since the A to Z Challenge ended.
I made it through *cue the Barry Manilow song* and I'm so freakin' proud of myself. But…I was feeling a little worn out and in a rut.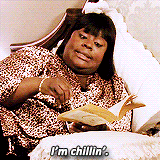 ☆ Well, like good food, a good book is comforting too.☆
⇩
⇩
When I was younger, I would always re-read my favorite story over and over and over. And even though I'd probably read it a million times before it still had the ability to take me away.
I started reading romance in my teenage years and the first romance I picked up was a Harlequin Presents romance by the late, Great Penny Jordan.
I was instantly hooked.
Seriously, it was bad—the house could be burning and I wouldn't know kind of bad. By the time I was 20, my first apartment probably had more bookshelves than anything else.
So, this week I'll be concenterating on stories that really just carry me away. My comfort reads are alwys in they romance genere, although at times I will stray to a good non-fiction motivational book.
❤ My Top 3 Comfort Reads ❤
So tell me, do you have any comfort reads or comfort genres?
What do you grab when you're feeling in a rut or feeling down?
Let me know if you have any suggestions?
P.S. I'm not affiliated with any authors or blogs mentioned. All opinions here are my own.